You excitedly post that image to Instagram, eagerly awaiting the likes and comments. Why? Because it means your followers are engaging with you – and that's an important part of your social media strategy.
But, are likes and comments your primary reason for participating on Instagram? They may offer awareness and enhance your brand. But is that all you are after? Isn't your ultimate goal is to sell something, gain subscribers or direct visitors to your website?
In order to get people to your website, your Instagram shares must include a call to action.
Here's a great example of a well written call to action from a FOLK magazine post.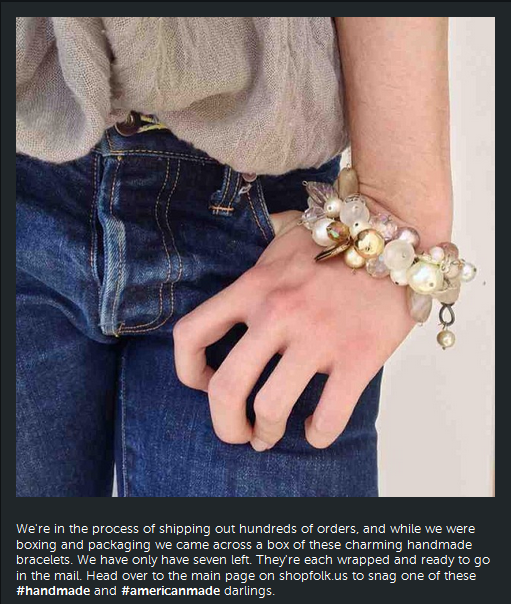 Let's examine this image caption.
"We're in the process of shipping out hundreds of orders, and while we were boxing and packaging we can across a box of these charming handmade bracelets. We have only have seven left. They're each wrapped and ready to go in the mail. Head over to the main page on shopfolk.us to snag one of these #handmade and #americanmade darlings."
This caption employs 4 tactics worth mentioning:
Casual, Friendly Tone
Do you like being told what to do? I sure don't. Even if you've subtly convinced me, I want to think I am making my own smart decisions. FOLK simply suggests you "head over" – nothing gimmicky like a "click now, you'd be a fool not to!" Instead of wanting you to "buy," they urge you to "snag" a bracelet.
The casual and friendly tone is still coercive without being obvious or pushy.
Sense of Urgency
By mentioning there are only 7 bracelets left, a sense of urgency is created. If you don't act now, you could miss out. But, in keeping with the tone of the text, the quantity is stated as a fact. The reader makes his or her own conclusion about the need to hurry.
Methods for creating a sense of urgency include limited quantities of a product or an offer with an expiration date.
Link Included
Most seasoned Instagram users know to find a live link you have to go to the account's bio section. However, for those who may not know – or if you are directing users to a different link – it is best to type out the link in the image caption. Unfortunately, on the mobile version of Instagram you can't copy and paste the link. So it is best to use a short, memorable URL.
Additionally, you could temporarily change the live link in your bio to a specific blog post, offer, or subscription web address during the promotion.
Target Marketing Hashtags

Within the call to action text, they have included hashtags. Instagram users who follow these hashtags, but not FOLK, may discover them this way. Following good form, the hashtags FOLK uses are relevant to the image and promoted item.
While Instagram may feel like it's all about the images, the text included within the caption influences the actions followers take. If you are using Instagram to drive website traffic and sales, a solid call to action is an essential element.